Our Lunch Catering Options
Option A

Wraps & Sandwiches

MeMe's Feta Salad

selection of Squares & Mini Cookies

$17.75 per person

Option B

Quiche

Organic Greens

Lemon Bar

$17 per person

Option C

Wraps

Mini Cookies

$11 per person

Option D

Beef Lasagna

Caesar Salad

$20 per person
Sandwich Platters
Small Sandwich Platter

Our Small Tray serves 6

$45

Medium Sandwich Platter

Our Medium Tray serves 10

$80

Large Sandwich Platter

Our Large Tray serves 20

$160
Wrap Platters
Small Wrap Platter

Our Small Tray serves 6 

$50

Medium Wrap Platter

Our Medium Tray serves 10

$85

Large Wrap Platter

Our Large Tray serves 20

$165
Sandwiches and Wraps Platters
Small Sandwich & Wrap Platter

Our Small Tray serves 6

$50

Medium Sandwich & Wrap Platter

Our Medium Tray serves 10

$75

Large Sandwich & Wrap Platter

Our Large Tray serves 20

$150
Vegetable Trays
Small Vegetable Tray

Our Small Vegetable Tray serves 6 to 8 and comes with 1 dip

$35

Medium Vegetable Tray

Our Medium Vegetable Tray serves 10 to 12 and comes with 2 dips

$50

Large Vegetable Tray

Our Large Vegetable Tray serves 15 to 20 and comes with 2 dips

$75
Fruit Trays
Small Fruit Tray

Our Small Fruit Tray serves 6 to 8

$55

Medium Fruit Tray

Our Small Fruit Tray serves 10 to 12

$70

Large Fruit Tray

Our Large Fruit Tray serves 15 to 20

$90
Domestic Cheese & Cracker Trays
Small Cheese & Cracker Tray

Our Small Cheese & Cracker Tray serves 6 to 8

$55

Medium Cheese & Cracker Tray

Our Medium Cheese & Cracker Tray serves 10 to 12

$75

Large Cheese & Cracker Tray

Our Large Cheese & Cracker Tray serves 15 to 20

$95
Premium Cheese & Cracker Trays
Small Premium Cheese & Cracker Tray

Our Small Premium Cheese & Cracker Tray serves 8 to 10

$75

Medium Premium Cheese & Cracker Tray

Our Medium Premium Cheese & Cracker Tray serves 12 to 20

$95

Large Premium Cheese & Cracker Tray

Our Large Premium Cheese & Cracker Tray serves 25 to 35

$125
Dessert Trays
Small Dessert Tray

Our Small Dessert Tray serves 6 to 8

$40

Medium Dessert Tray

Our Medium Dessert Tray serves 10 to 12

$60

Large Dessert Tray

Our Large Dessert Tray serves 15 to 20

$110
Cheese Ball & Cracker Tray
Small Dessert Tray

Our Small Dessert Tray serves 6 to 8

$40

Medium Dessert Tray

Our Medium Dessert Tray serves 10 to 12

$60

Large Dessert Tray

Our Large Dessert Tray serves 15 to 20

$110
Small Bites
Order our speciality Small Bite items for your next event. We have a wide variety of options from cold to hot Small Bites.
Call to Order
Cold Small Bites
Tomato Basil Bocconcini Pops

Shrimp Wrapped Snow Peas & Seafood Sauce
Hot Small Bites
Curried Chicken Skewer with Mango Dip

Mushroom Brie Phyllo Triangles

Black Bean Cakes with Salsa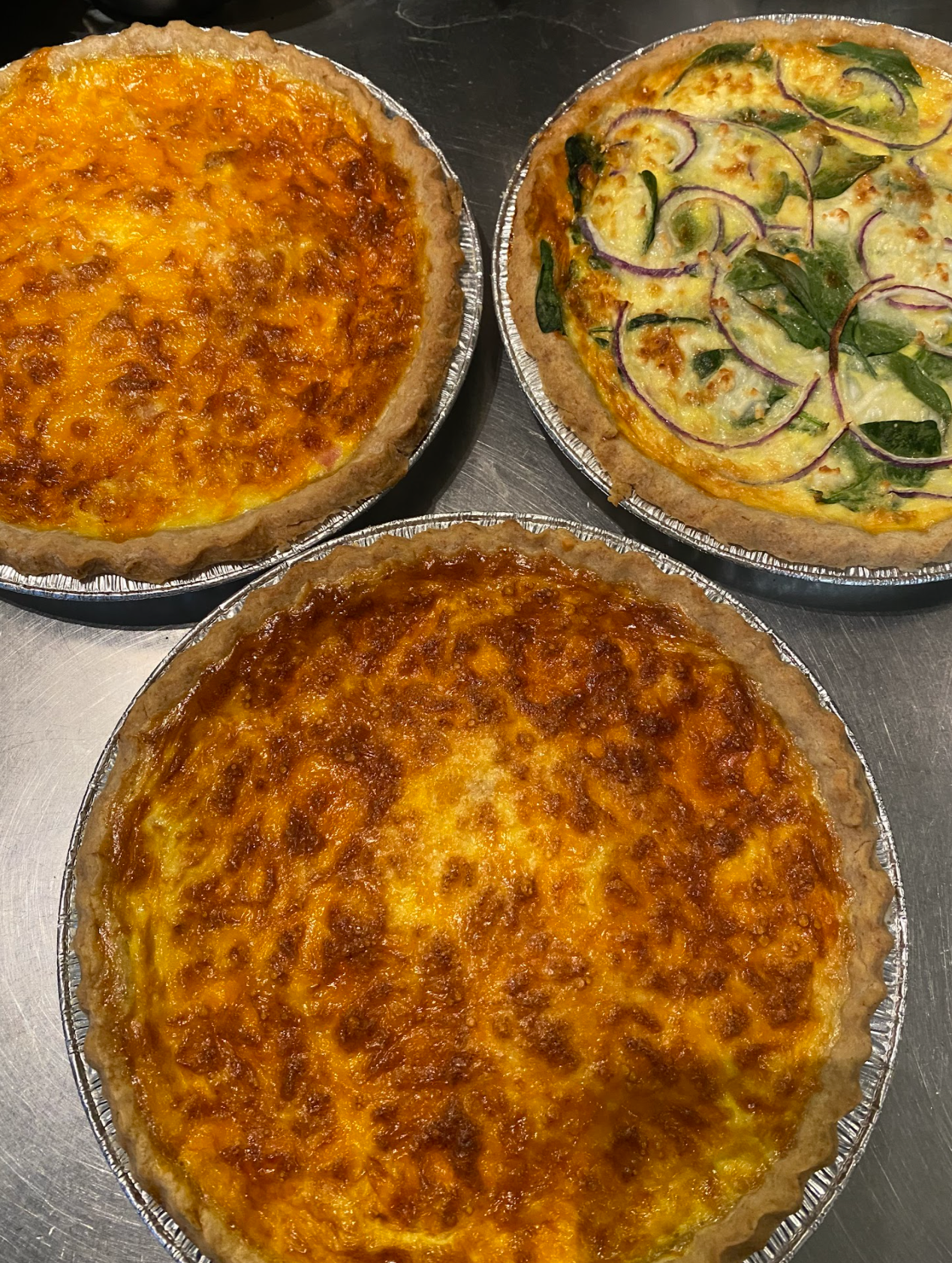 Quiche
We offer a choice of Ham & Cheddar; Spinach, Feta & Red Onion; Mushroom & Swiss; or Leek & Asiago. Each full size quiche serves 6.
$20
Order our Quiche today